If you're unsure about your customer's E-address and service provider, or whether they exists in the network Pagero offers, you can check them with these easy steps:
1. Log in to Pagero Online
2. Go to Customer Directory --> Search and Add customers
3. You can search all the possible recipients connected to Pagero's network with three methods. You can search with your customer's name, electronic identifier (eg. organization or VAT-number) or their service provider. Using an electronic identifier is the preferable method. If you wish to search your customer by name, you can place your search word between asterisks (*) to improve your chances of netting a result. This is because Company Name -field is case sensitive.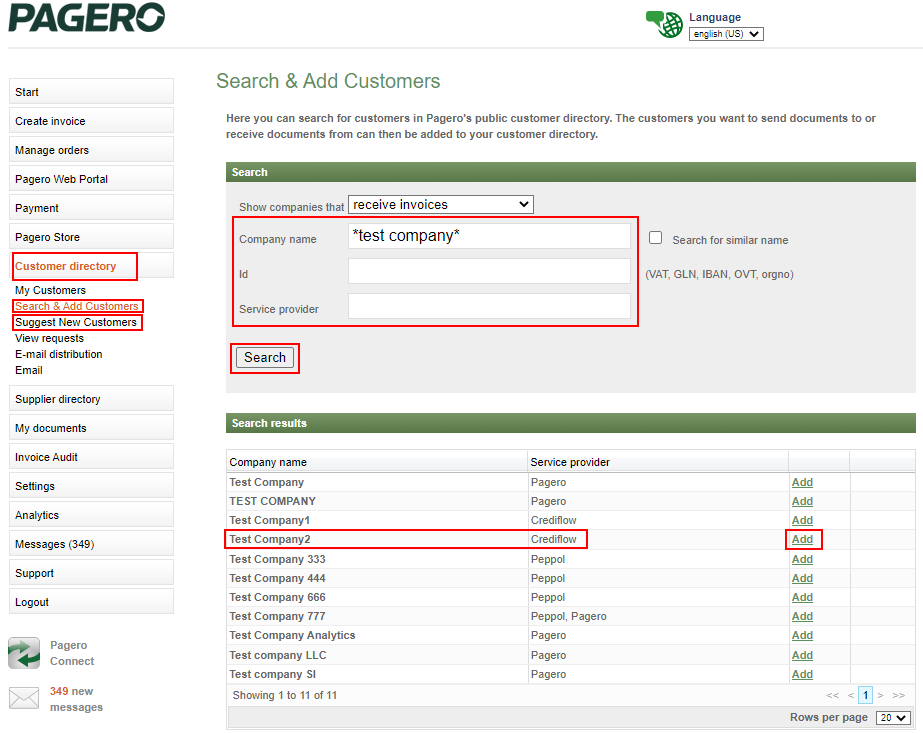 4. Search-button will offer a list of all the companies that exist within Pagero's network based on your search-terms. By clicking the name of your customer, you can open a window with more information about them such as their Organization number, VAT-ID and e-invoice and their service provider. Pagero uses all these fields in order to route your invoices to correct place. You can add your customer to your customer directory with the "Add" button. There is a separate article about maintaining your own customer directory here: https://support.pagero.com/hc/en-us/articles/11730704047378-Managing-your-customer-directory
5. If you can't find the customer with your search, it's possible that they've yet to be added in the network. You can suggest new recipient here: Customer directory --> Suggest new customers