This Message will follow in English and German / Diese Nachricht ist auf Englisch und Deutsch
Dear customer,
We are glad to announce that we have upgraded our Service Status page, this is to make it easier to follow updates once we have an issue with our services and to see historical issues.
From 13.10.2021, we will post information about Pagero service statuses here. As before, information about issues with our services will be found in our Support Center under "Service Status".


What do you need to do?
To keep receiving service status updates for coming issues you need to go into our new Service Status page and subscribe to the platforms you wish to receive updates about.
Click on "Subscribe to updates" as the picture below shows
Choose either E-mail or Webhook as receiving channel
Insert address, E-mail or URL
Choose which platforms and services you wish to receive updates about
For any questions, please reach out to our Support Team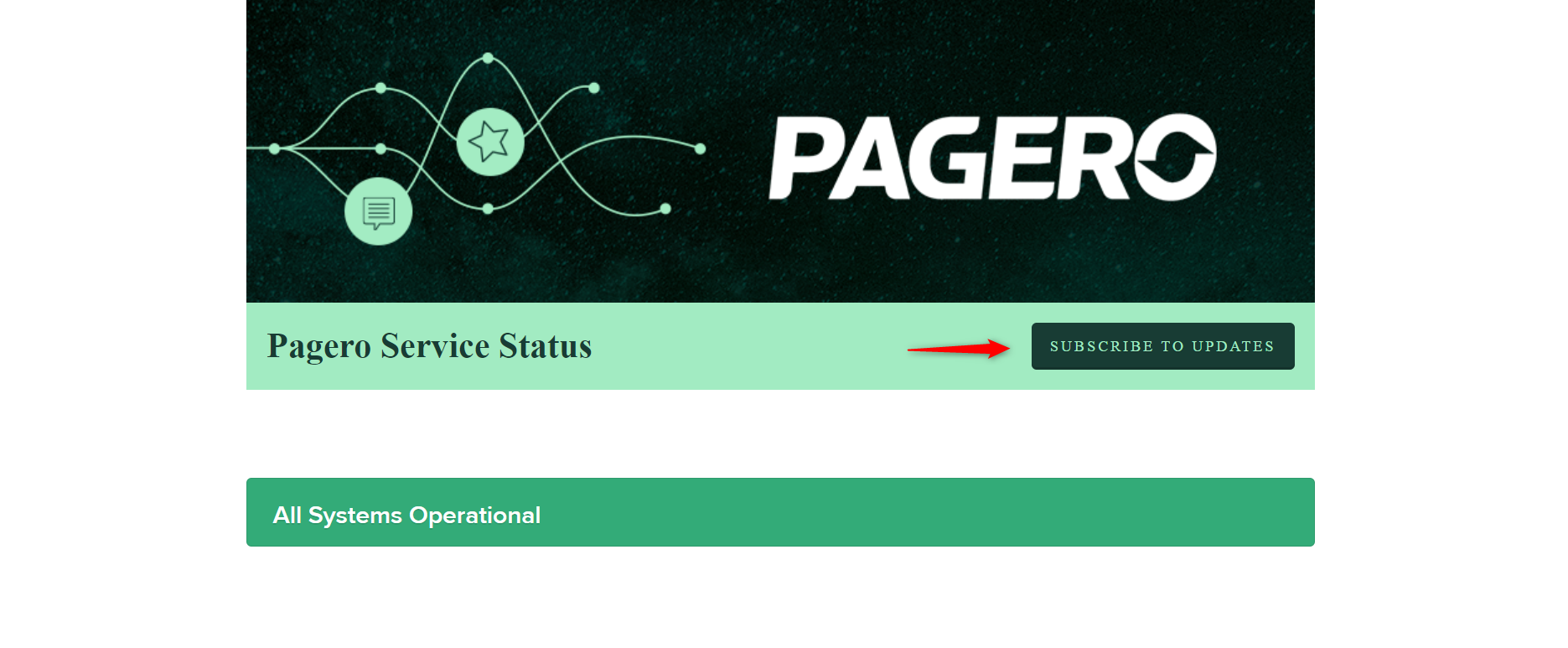 Sehr geehrte Kunden,
Wir freuen uns, Ihnen mitteilen zu können, dass wir unsere Servicestatusseite aktualisiert haben, um Ihnen die Verfolgung von Updates bei Störungen mit unseren Diensten und die Einsicht in frühere Störungen zu erleichtern.
Ab dem 13.10.2021 werden wir hier Informationen über den Status der Pagero-Dienste veröffentlichen. Informationen zu Störungen mit unseren Diensten finden Sie wie bisher in unserem Support Center unter "Service Status".
Was müssen Sie tun?
Um weiterhin Updates zum Service Status für kommende Störungen zu erhalten, müssen Sie unsere neue Servicestatusseite aufrufen und die Plattformen abonnieren, für die Sie Updates erhalten möchten.
Klicken Sie auf "Subscribe to updates", wie in der Abbildung unten gezeigt
Wählen Sie entweder E-Mail oder Webhook als Empfangskanal
Adresse, E-Mail oder URL einfügen
Wählen Sie die Plattformen und Dienste, über die Sie Updates erhalten möchten
Wenn Sie Fragen haben, wenden Sie sich bitte an unser Support-Team